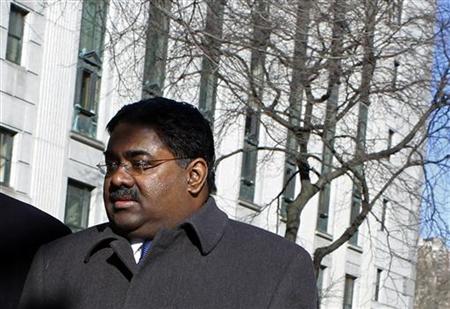 By Grant McCool
NEW YORK (Reuters) - The jury at Galleon Group hedge fund founder Raj Rajaratnam's insider trading trial will not hear evidence of videotapes, fax and phone records from 1998 linking him to a former Intel Corp employee, the judge ruled on Tuesday.
The ruling marks a success by the defense in limiting evidence in the high-profile trial about former Intel <INTC.O> and Galleon employee, Roomy Khan, who pleaded guilty in the case.
Federal prosecutors in Manhattan do not plan to call Khan to the witness stand. But they had asked U.S. District Judge Richard Holwell if they could introduce two short videotapes and faxed information from Intel that they contend proved that Khan gave Rajaratnam secret corporate information in late 1997 and early 1998.
Holwell ruled that the records were inadmissible because there were other ways to introduce the evidence and the alleged events of those years were not part of the charges against Rajaratnam.
Prosecutors will be allowed to introduce records from 2006 and 2007 of phone calls, trades and instant messages that they contend show Khan, a trader, and Rajaratnam conspired to gather secrets about Google Inc <GOOG.O>, video teleconference technology company Polycom Inc <PLCM.O> and Hilton Hotels.
In what prosecutors have called the biggest probe of insider trading at hedge funds on record, Rajaratnam, 53, is charged with 14 counts of conspiracy and securities fraud. He is accused of making $45 million in illicit profits between 2003 and March 2009 on leaked stock tips from highly placed sources in corporate America.
His lawyers contend that research, analysis and market speculation, not material company secrets, guided his trades at Galleon, which had $7 billion under management at its peak. If convicted, the Sri Lanka-born money manager faces as much as 20 years in prison.
The government is expected to rest its case on Wednesday.
The case is USA v Raj Rajaratnam et al, U.S. District Court for the Southern District of New York, No. 09-01184.
(Additional reporting by Basil Katz; Editing by Lisa Von Ahn)