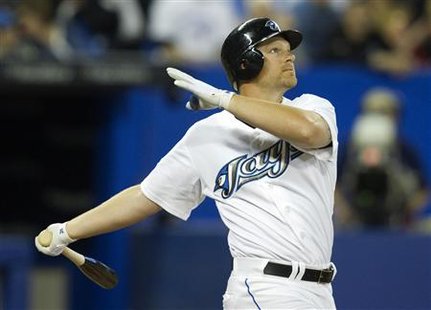 By Steve Keating
TORONTO (Reuters) - Catcher J.P. Arencibia smashed two homers and drove in five runs to lead the big-hitting Toronto Blue Jays to a ruthless season-opening 13-3 rout of the Minnesota Twins on Friday.
The Blue Jays, who led the major leagues with 257 home runs last season, came north from their Florida spring training base with their explosive bats fully loaded, Arencibia, Adam Lind and Jose Bautista all crushing towering home runs to the gasps of a sellout crowd.
Almost overlooked in the opening night fireworks was a superb pitching performance from Toronto starter Ricky Romero (1-0), who surrendered three runs, just one earned, off seven hits in 6 1/3 innings of solid work.
Toronto rocked shaky Twins starter Carl Pavano (0-1) for four runs in the first inning and then unleashed their big guns, Arencibia pounding a two-run homer to dead center in the fourth.
Lind and Bautista, who led the major leagues with 54 homers last season, crushed back-to-back solo shots in the fifth, while Arencibia added a two-run triple to put Toronto in charge 10-0.
The Twins clawed three runs back in the top of the seventh but Arencibia, who also hit two homers in his major league debut last season, then hit a solo homer to key a three-run eighth inning to end any threat of an unlikely come back.
"My job is to go out there and catch...the bat is secondary," Arencibia told reporters. "That was my ultimate goal and today I just happened to have a good day at the plate.
"It was a little different (from his debut last August) because this was opening day. I had so much today playing behind these guys. Everyone from top to bottom had a great game."
Bautista, who signed a five-year $65 million contract in the off-season, also had three hits scoring three times and driving in a run while Lind contributed two hits and three RBI.
It was also a memorable home opener for John Farrell, who collected his first win as major league manager but played down the victory cautioning it was a long season ahead.
"Tonight is game one," said Farrell, admitting he will keep a couple of souvenirs to remember the night.
"But the electricity in the ball park was great; we'd like to think we're gaining the confidence of the city and there could be more nights like tonight.
"I don't want to make too much out of game one but ... it was a great night for Blue Jay fans."
(Editing by Greg Stutchbury)