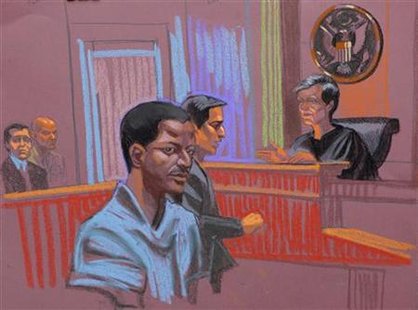 By Basil Katz
NEW YORK (Reuters) - Jury selection began on Wednesday for a Tanzanian charged in the 1998 U.S. embassy bombings in Africa, the first detainee from the Guantanamo Bay military prison to go on trial in a U.S. civilian court.
U.S. District Judge Lewis Kaplan on Wednesday vetted 53 potential jurors for Ahmed Khalfan Ghailani's trial in a Manhattan federal court after they and hundreds others filled out 11-page questionnaires.
Ghailani, 36, faces life in prison if convicted of conspiring with Islamic militants to bomb the U.S. embassies in Tanzania and Kenya, which killed 224 people.
He wore a blue sweater, white dress shirt and tie and smiled when asked by the judge to stand for the jurors.
His trial, due to begin October 4, could become a template for future civilian prosecutions of some of the 174 people held at the prison in Guantanamo Bay, Cuba, including Khalid Sheikh Mohammed, the accused mastermind of the September 11, 2001 attacks.
President Barack Obama vowed to close the prison earlier this year amid broad international condemnation over the treatment of detainees, but admitted this month he fell short because of the political sensitivity of the move.
Ghailani was held at Guantanamo Bay for nearly three years until he was transferred to New York in June 2009.
He pleaded not guilty in 2009 to charges he bought a truck and explosives used to bomb the U.S. embassy in Tanzania. Ghailani said he did not know what they would be used for.
KEY WITNESS
Potential jurors for the trial were asked in a questionnaire about their feelings on Islam and Muslims, and if they had ever been exposed to terrorism.
Before the 1998 bombing in Tanzania, Ghailani fled to Pakistan. He was captured in July 2004 and handed over to the CIA as a so-called enemy combatant, and detained by the CIA at a secret location for more than two years.
Defense attorneys argued that statements Ghailani made while in CIA detention were coerced, and that he was repeatedly tortured. They unsuccessfully argued that the criminal case against Ghailani should be dismissed because he was denied the right to a speedy trial.
Kaplan ruled that the prosecution was delayed for a legitimate reason -- investigators were gathering high-value intelligence from Ghailani during interrogations.
The judge now must decide whether he should allow a Tanzanian witness, Hussein Abebe, to testify against Ghailani in court. U.S. prosecutors said Abebe was arrested in Tanzania and flown to Zanzibar, where he told FBI agents that he had sold the explosives to Ghailani.
The defense argued Ghailani was coerced into naming Abebe, and that he should not be allowed to testify.
Assistant U.S. attorney Michael Farbiarz, however, told the judge Abebe was a "giant witness for the government." With Abebe, Farbiarz said, "the jury can hear a witness that says yeah, 'I sold repeatedly explosives to the defendant and the defendant lied to me about why he wanted them.'"
The judge said he would likely not decide about Abebe before the start of the trial.
(Editing by Michelle Nichols and Paul Simao)