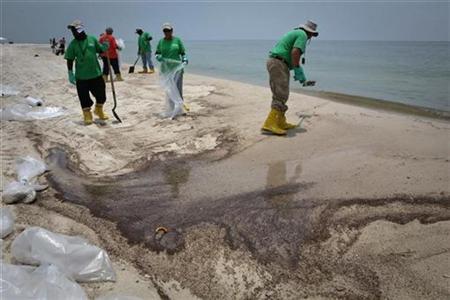 BIRMINGHAM, Alabama (Reuters) - Alabama expects to receive billions of dollars in penalties from BP Plc in the wake of the oil spill in the Gulf of Mexico, Governor Bob Riley said on Monday.
BP and the White House will probably soon reach an agreement on how much money will be available to four Gulf states that have been affected by the spill, Riley said in a statement.
"While we don't know the total or how it will be divided ... we have every reason to believe Alabama will suddenly have significant resources at its disposal, likely in the billions of dollars," the statement said.
The state is setting up a Coastal Recovery Commission charged with setting priorities for its expected payment from the energy giant, Riley said.
Louisiana's coastline bore the brunt of damage from the spill, which began on April 20 when a BP deepwater rig exploded and sank, unleashing millions of gallons of oil into the Gulf of Mexico.
Alabama, Mississippi and Florida also sustained damage. The spill ran until July 15, when the well was capped.
(Reporting by Peggy Gargis, writing by Matthew Bigg; Editing by Lisa Von Ahn)