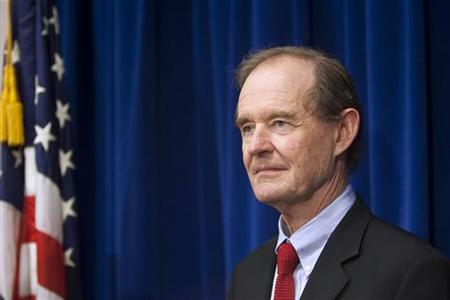 WILMINGTON, Delaware (Reuters) - A high-profile attorney who represented former Vice President Al Gore in the 2000 presidential election recount has made a surprise bid to lead the mammoth U.S. legal cases tied to the Gulf oil spill.
David Boies, a New York litigator, is entering a crowded field of plaintiffs' lawyers also angling for a prime role in the lawsuits against BP Plc and other corporate defendants.
He has submitted an application for a seat on a committee that will oversee the cases, according to court documents.
Other applicants for committee seats include well-known plaintiffs' attorney Mark Lanier of Texas, and California lawyers Elizabeth Cabraser, who battled Exxon Corp over the Valdez spill, and Thomas Girardi, who helped reach a settlement in a case made famous by the film "Erin Brockovich."
"There's a lot of money at stake," said Richard A. Nagareda, a professor at Vanderbilt Law School in Nashville, Tennessee. "That's why so many people are applying and why the appointment to the committee is so contentious."
Lawsuits have been filed around the country against BP and others as a result of the oil spill, the largest in U.S. history. In August, many of these cases were consolidated in a federal court in New Orleans.
Judge Carl Barbier asked the lawyers who have brought lawsuits to submit applications for a seat on the committee.
A seat comes with the power to generate fee work for years and gives the attorneys the ability to shape the direction of the case.
The judge overseeing the case said he will consider an applicant's willingness to commit to years of legal work, ability to work with others and experience in complex litigation.
Boies, chairman of law firm Boies Schiller & Flexner, championed Gore's case in the Bush v Gore U.S. Supreme Court case in 2000 that catapulted George W. Bush to the White House. He is also known for overseeing the U.S. Department of Justice's antitrust case against Microsoft Corp.
Boies, who applied to help lead the BP-related cases on Friday, did not immediately return a call for comment.
The judge said he would only consider applications from lawyers with cases before the court.
Boies described in his application the work his firm has done on the case, which includes touring docks and clean-up sites and talking to fishermen, deckhands, hotel owners, elected officials and the owner of an oyster-shucking plant.
Melissa Willett of Boies Schiller's Washington office, who submitted the application for Boies, said the firm had cases pending in the oil spill litigation.
Boies's arrival on the scene was not well-received by all attorneys.
"I'm completely surprised," said Daniel Becnel, a Reserve, Louisiana, attorney who is well-known in Southern legal circles for his career fighting maritime lawsuits over spills and rig explosions.
"I don't think lawyers in the South need someone to tell us what to do in an admiralty case since most of us have dealt with it for 40 years," said Becnel.
The case in U.S. District Court for the Eastern District of Louisiana is In re Oil Spill by the Oil Rig "Deepwater Horizon" in the Gulf of Mexico April 20, 2010, No. 10-MDL-2179. (Reporting by Tom Hals, editing by Steve Orlofsky).