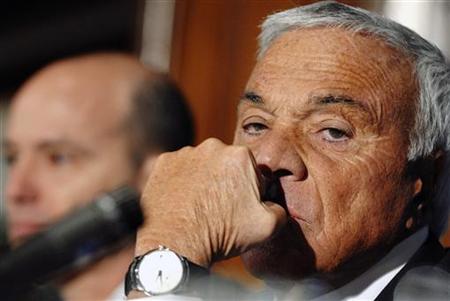 By Dan Levine
SAN FRANCISCO (Reuters) - The U.S. Securities and Exchange Commission received the go-ahead to take former Countrywide Chief Executive Angelo Mozilo and two other former executives of the mortgage company to trial, a federal judge in Los Angeles ruled on Thursday.
In one of the highest profile enforcement actions to arise out of the recent financial collapse, the SEC accused Mozilo, former Countrywide President David Sambol and former Chief Financial Officer Eric Sieracki of failing to disclose the true state of Countrywide's deteriorating mortgage portfolio.
Regulators also contend Mozilo made millions by dumping Countrywide stock before the truth emerged.
Attorneys for the defendants have denied any wrongdoing, and argued in court filings that Countrywide was upfront about the risks of its mortgages.
But U.S. District Judge John Walter refused to resolve the case in Mozilo's favor on Thursday, ruling that the SEC had raised enough factual issues for it to be decided by a jury, according to court documents.
The SEC presented evidence that Mozilo's stock sales in 2006 and 2007 were "significantly out-of-line with his prior trading plans or practices," Walter wrote. Thus a jury can decide whether Mozilo acted on inside information, Walter ruled, adding that Mozilo netted over $140 million from those transactions.
An attorney for Mozilo was not immediately available for comment, nor was the SEC. Sambol's attorney declined to comment.
Shirli Weiss, an attorney for Sieracki, said they looked forward to trial.
"His Honor was careful to note that it is not his function in this motion to weigh the evidence or to determine truth," she said.
Weiss said it remains to be seen whether the SEC will be able to convince a jury of its case.
LAWSUIT SIMMERING
The SEC's lawsuit against Mozilo, the one-time home loan titan, has been simmering for more than a year. A criminal investigation of Countrywide is still ongoing, but so far has taken a backseat to the civil proceedings.
The government has had mixed results in financial crisis probes. Last year, two former Bear Stearns fund managers were acquitted of fraud, a blow to federal prosecutors in New York.
The SEC recently reached a $550 million settlement with Goldman Sachs Group Inc over a subprime mortgage product.
Countrywide was acquired by Bank of America for $2.5 billion in 2008. The company recently agreed to pay $600 million to settle a class-action lawsuit brought by investors who claimed they were misled.
Walter did throw out a small portion of the SEC's case against Mozilo and Sieracki, ruling that a false Sarbanes-Oxley certification does not constitute an independent violation of securities laws.
However, Walter decided that a jury must weigh in on whether the defendants adequately conveyed details about Countrywide to investors.
"Indeed, a reasonable investor is not required to pore through all prior transcripts of earnings calls, review hundreds of prospectus supplements filed by indirect subsidiaries, or 'connect the dots' in a company's various SEC filings," Walter wrote.
Trial is currently scheduled to begin in Los Angeles on October 19. The case in U.S. District Court, Central District of California is SEC v. Angelo Mozilo et al., 09-cv-03994.
(Editing by Carol Bishopric and Dhara Ranasighe)