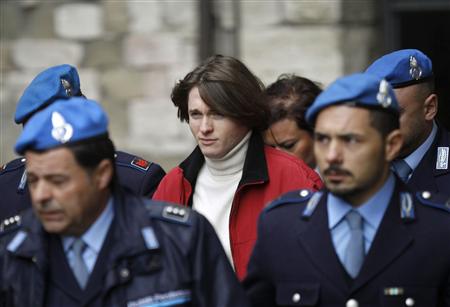 PERUGIA, Italy (Reuters) - Friends and relatives of former U.S. student Amanda Knox, jailed in Italy for the murder of her British flatmate, said on Wednesday they were confident she would be proven innocent as her appeal trial started.
Knox, whose case drew huge interest around the world, was sentenced to 26 years in prison in December for her part in the killing of 21-year old Meredith Kercher after what judges said was a frenzied sex game that spiraled out of control.
Her then-boyfriend, Raffaele Sollecito, and another man, Rudy Guede, were also convicted for their role in the murder.
The appeal trial was immediately adjourned to December 11, with two more hearings set on December 18 and January 15.
Knox, a 23-year old from Seattle whose good looks have captivated the media in Italy and abroad, appeared in court handcuffed and wearing a blue sweater.
"Amanda is actually fine, she's looking forward to it," Knox's stepfather Chris Mellas told reporters.
"She's hopeful for a good appeal, I think she feels and certainly the lawyers feel that we have a very strong case for her being innocent, which, you know, is the case."
Kercher's semi-naked body was found in November 2007, locked in her blood-splattered bedroom in the house she shared with Knox and two other students in the university town of Perugia.
She had a deep stab wound in the throat.
Prosecutors have accused Knox of persuading Guede and Sollecito to take part in an extreme sex game involving Kercher, which turned violent. They said Knox was furious at Kercher for criticizing her for a lack of cleanliness and promiscuity.
Knox's family and friends, along with some U.S. media, have said that her conviction was a miscarriage of justice.
"I think mistakes are made in every justice system throughout the world and mistakes were made in this one and I think it will be fixed," said Madison Paxton, a friend who travelled from Seattle for the hearing.
(Reporting by Maurizio Troccoli and Antonio Denti; editing by Noah Barkin)