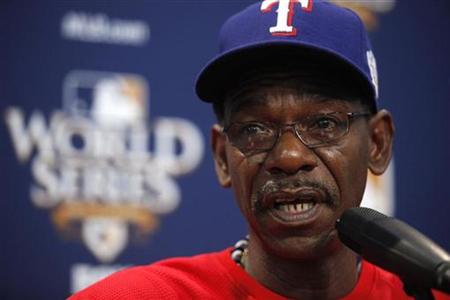 DALLAS (Reuters) - Texas Rangers manager Ron Washington agreed to a two-year contract extension with the team on Thursday after he guided them to their first World Series last month.
Washington led the Rangers to a 90-72 record in the regular season, their first division title since 1999 and their first two playoff series victories.
"This was a formality as much as anything," Rangers general manager Jon Daniels told the team's website (http://texas.rangers.mlb.com). "We're not in the postseason or the World Series without his leadership.
"What he's done in changing the culture, changing the attitude, and changing the expectations, has been enormous.
"He has a passion and a respect for the game and respect for his players. Our guys feed off that. We have a very resilient club and a very successful club and those are attributes that Ron brings every day."
The Rangers beat the Tampa Bay Rays in the American League Division Series and then upset the New York Yankees in the AL Championship Series before losing the World Series to the San Francisco Giants 4-1 three days ago.
"I want to thank the Texas Rangers for the opportunity to lead the organization for two more years and hopefully further," Washington said.
"I don't think we could have gotten this far without the whole organization, the front office, the coaching staff, the players, the clubhouse staff. Everybody played a part in our success."
(Writing by Mark Lamport-Stokes in San Diego; Editing by Greg Stutchbury)