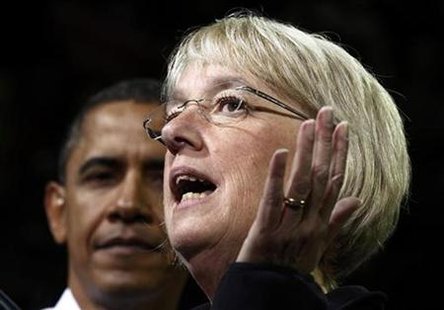 WASHINGTON (Reuters) - Democratic Senator Patty Murray has won the Senate race in Washington state, according to media projections, and Republican challenger Dino Rossi called to concede.
"This evening, I called Senator Murray to offer my congratulations on her re-election to the U.S. Senate," Rossi said in a statement.
Murray's re-election to a fourth term gives Democrats 51 seats in the 100-member Senate. The Republicans have 46 seats and there are two independents who caucus with the Democrats. The Senate race in Alaska has yet to be called.
The Washington race had been too close to call since the polls closed on Tuesday. Ballots were still being counted on Thursday.
Although polls had predicted victory for Washington's senior senator, known for her strong support of big local employer Boeing, her win still bucks the trend of nationwide gains by Republican and Tea Party candidates.
Republicans took control of the House of Representatives and made gains in the Senate, and plan to attack the Obama administration's political agenda.
Murray, 60, is Senate Majority Conference secretary, making her the fourth-ranking Democrat in the Senate. She is also a senior member of the Senate Committee on Appropriations.
(Editing by Mohammad Zargham)