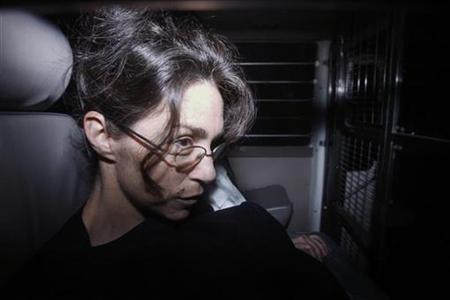 HONG KONG (Reuters) - A Hong Kong judge said on Wednesday he hoped to rule by the end of the month on an American woman's bid to halt her retrial over the killing of her banker husband in what has been dubbed the "milkshake murder" case.
Nancy Kissel, in her mid-40s, is seeking a permanent stay on proceedings that would dismiss the charges related to the 2003 killing of her husband, Robert, a banker at Merrill Lynch, in a legal saga that engrossed Hong Kong's expatriate community.
A special hearing on the matter wrapped up on Wednesday after lawyers finished giving their submissions, Hong Kong's RTHK radio reported, with High Court judge Andrew Macrae saying he "hoped" to hand down his decision by the end of November.
This week, Macrae issued a gag order on media reporting of the trial, while barring the public from attending.
Kissel was sentenced to life in 2005.
She had admitted to killing her husband but pleaded not guilty to murder, a charge that requires premeditation.
RTHK reported that should the judge decide to order a retrial, it would likely begin early next year.
There was no immediate response from Simon Clarke, one of Kissel's legal advisers, when contacted by Reuters.
In February, Hong Kong's highest court quashed Kissel's conviction in a dramatic reprieve after she'd already served several years of a life sentence for murdering her husband.
Lurid reports of the "milkshake murder," with tales of rough sex, marital violence and adultery, transfixed the public in Hong Kong and beyond, with a glimpse of the darker side of high-flying expatriate life in the former British colony.
Prosecutors had said Kissel gave her husband a milkshake spiked with "a cocktail of drugs" before cracking his skull several times with a statuette.
(Reporting by James Pomfret; Editing by Robert Birsel)