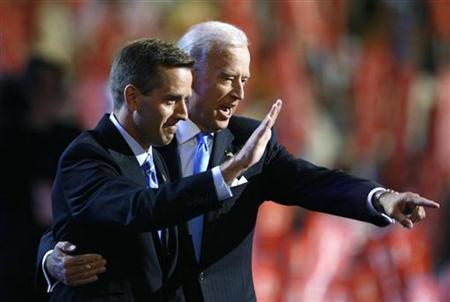 WASHINGTON (Reuters) - Vice President Joe Biden's son, Beau, was released from a hospital Tuesday with a clean bill of health a week after he was admitted with a mild stroke.
Beau Biden, 41, is "neurologically normal," said his physician, Dr. Robert Rosenwasser of Jefferson Hospital for Neuroscience at Thomas Jefferson University in Philadelphia, in a statement.
Rosenwasser said he was releasing Biden to assume his full responsibilities as Delaware's attorney general after a short period of rest at home.
Biden was feeling well and looking forward to returning to work full time, said Jason Miller, a spokesman for the Delaware Department of Justice.
Biden earlier this year chose not to run for the U.S. Senate seat once held by his father. In September he completed a year-long tour of duty in Iraq as a captain in the Delaware Army National Guard.
(Reporting by Patricia Zengerle, editing by Cynthia Osterman)