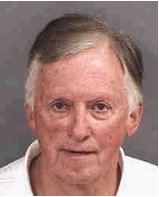 (Naples, FL - WHTC News) - A retired Holland area doctor is behind bars in a Florida jail.
Authorities arrested 75-year-old Roger Gemmen this week, charging him with seven felony counts of grand theft. The one-time surgeon, who maintains homes in both Park Township and East Naples, Florida, allegedly took two wooden chairs, along with several paintings and a desk, from a Florida motel over a nine-year period.
Tips from employees in February eventually led police to Gemmen's Florida home, where they reportedly saw through the window of the residence items matching the description of the stolen goods. Gemmen was already back in Michigan, but returned south and surrendered to police on Tuesday. He was arraigned on Wednesday and remains held on 17 thousand, 500 dollars bond.
Authorities believe that there may be more stolen items involved as the investigation into this matter continues, both in Florida and here along the Lakeshore.
-Gary Stevens, WHTC/WYVN News