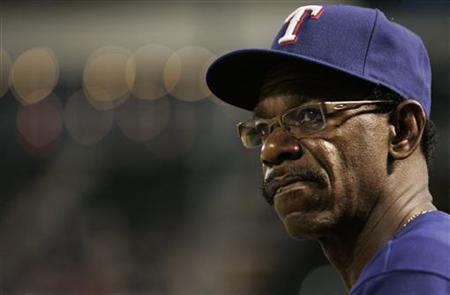 PHOENIX (Reuters) - Texas Rangers manager Ron Washington tested positive for cocaine last July but has since completed a drug-treatment program and will be retained by the team, the Rangers' website said Wednesday.
"I am truly sorry for my careless, dangerous and frankly stupid behavior last year," Washington said at a hastily called news conference in Surprise, Arizona.
Washington admitted to using cocaine once during the first half of last season, the website (http://texas.rangers.mlb.com) said. He subsequently told the Rangers about his drug use and entered a treatment program.
The 57-year-old former major league infielder offered to resign but the Rangers decided to keep him on.
Washington has been the Rangers' manager for three seasons, compiling a 241-245 record. The club finished second in the American League West in 2009 with an 87-75 record.
Washington addressed the players early Wednesday after learning that several media outlets were about to report the story, the website said.
(Writing by Steve Ginsburg, Editing by Clare Fallon)