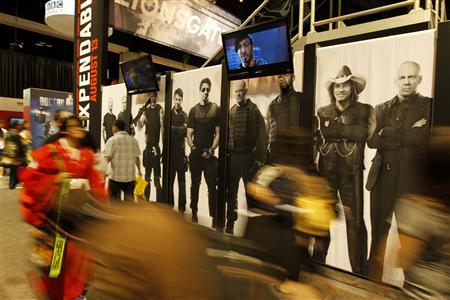 By John Gaudiosi
SAN DIEGO (Reuters) - Hollywood took over downtown San Diego on Thursday as the giant annual Comic Con convention kicked off a four day celebration of pop culture.
Angelina Jolie flew in to promote her new spy movie "Salt", Johnny Depp greeted fans by video from the set of the fourth "Pirates of the Caribbean" movie, and Jeff Bridges and Olivia Wilde turned up to chat about their hotly-anticipated sci-fi thriller sequel "TRON: Legacy".
Around 126,000 fans of comics, movies, video games and TV series are expected to descend on the San Dieo Convention Center for the show, which started life as a gathering of comic book fans but has now become a key stop in Hollywood's bid to attract influential young male audiences.
Lines for the "TRON:Legacy" panel wrapped around the convention center long before the show officially kicked off.
But before some 6,500 lucky fans were treated to eight exclusive minutes of 3D footage from Walt Disney's December 17 release, Disney had a few other surprises.
"Hellboy" director Guillermo del Toro will write and produce a big screen adaptation of Disney's "Haunted Mansion" theme park ride, Disney announced. No release date was given.
In an event Disney dubbed "ComiTRON", Bridges, Wilde, Bruce Boxleitner, Michael Sheen and Garrett Hedlund joined the original 1982 film's creator, Steven Lisberger, and new director Joe Kasinski on stage for an hour-long panel.
"When we did TRON, there was no Internet and we carried around phones in suitcases," recalled Bridges. "Looking back, the same thing that attracted me to TRON attracted me to this one, getting a chance to play around with all of this cutting-edge technology. This TRON makes the old one look like black and white TV."
Disney used the convention to launch the "TRON:Legacy" iPhone App which sent fans on a real-life treasure hunt to unlock golden coins that will grant them access to a recreation of Flynn's Arcade -- complete with video games -- throughout the weekend.
Disney also offered a different type of interaction with the "TRON" audience. Kasinski recorded five minutes of crowd chants and foot stomping that will be used in the actual film as spectators who congregate to watch "the games." He said if it wasn't for the Comic Con audience, "TRON:Legacy" wouldn't have become a reality.
TWITTER AND TACOS
Jolie joined her "Salt" co-star Liev Schreiber, producer Dino di Bonaventure and director Phillip Noyce to promote the Russian spy thriller, which opens on Friday.
"You can get away with so much in fantasy like bending a bullet, for example. So this one was a nice challenge because we had to work so much harder to convince the audience that all of these things are possible. I think these stunts in this movie are better than in other action movies that I've done," she said.
Beyond the skyscraper-draped posters for upcoming films like "Skyline" and videogames like "Red Faction: Armageddon," there was a new type of interaction between fans and stars.
Paramount Pictures created the "Scott Pilgrim vs. the World Experience" across the street from the convention center and used Twitter to alert fans to when the cast and crew will appear at the outdoor park.
Live music, free t-shirts, video postcards and a chance to play the new Ubisoft "Scott Pilgrim vs. the World" videogame are all available throughout the weekend.
Elsewhere, "Machete" writer/director Robert Rodriguez and stars Michelle Rodriguez and Danny Trejo handed out tacos from a truck before screening footage from the new horror film and hosting a party.
Lindsay Lohan, arguably the biggest attraction of the September movie release, is in jail in Los Angeles serving what is expected to be 14 days of a 90-day jail sentence for violating her probation in a 2007 drunk driving case.
(Editing by Jill Serjeant)