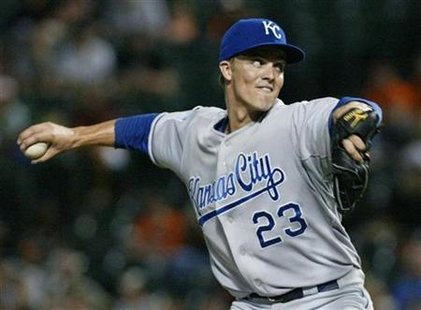 MILWAUKEE, Wis. (WTAQ) - The Milwaukee Brewers have continued work on solidifying an attention-grabbing pitching staff, by acquiring Royals pitcher Zack Greinke in a six-player trade.
ESPN is confirming the former Cy Young Award winner will go to the Brewers in exchange for outfielder Lorenzo Cain, shortstop Alcides Escobar, along with pitching prospects Jake Odorizzi and Jeremy Jeffress.
The 27-year-old Greinke finished 10-14 with a 4.17 ERA last season, one-year after winning the American League Cy Young in 2009.
Greinke joins a staff that includes Yovani Gallardo, Randy Wolf, Chris Narveson and Shaun Marcum, who was acquired in a trade earlier this month from the Toronto Blue Jays.
ESPN also reports the Brewers were expected to get another major league player in the deal. Blogger Jim Breem from "Bernie's Crew" reports it's going to be shortstop Yuniesky Betancourt.