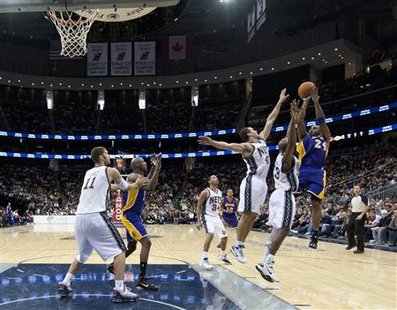 NEWARK, New Jersey (Reuters) - Kobe Bryant scored 32 points and made key plays down the stretch to help the Los Angeles Lakers defeat the New Jersey Nets 99-92 on Sunday.
With the game tied at 87-87 with just under three minutes left, Bryant assisted on two easy scores to spark an 8-0 run that allowed the two-time defending champion Lakers (17-7) to clinch the victory.
Bryant carried the load after halftime with 25 points and dished out six assists overall to power the Lakers, who have now won two of three games in a seven-game road swing.
"I felt like this was the type of game I needed to put my stamp on," Bryant told reporters. "We talked about moving without the ball instead of standing and watching and because of that we were able to get a lot of easy baskets."
Lamar Odom finished with 22 points, including a 24-foot, three-pointer during his team's late run, as Los Angeles earned its fourth win in five games.
Brook Lopez had 25 points and nine rebounds for the Nets (6-18), who fell to their season-worst seventh straight loss.
Devin Harris contributed 16 points and 10 assists for New Jersey after hurting his shoulder in a loss to Dallas on Thursday when he left the game early and did not return.
The Nets trailed by 10 points at halftime but clawed back and led briefly, 83-82, with 5:35 to go.
Los Angeles prevailed despite shooting just 41 percent from the field. The Lakers were coming off a loss to Chicago on Friday when they scored a season-low 84 points.
The Lakers will now meet with President Barack Obama on Monday, the second successive year they will be recognized at the White House for an NBA championship.
"It's always special," Bryant said. "It's a huge honor to say the least."
(Writing by Jahmal Corner in Los Angeles, editing by Steve Ginsburg)