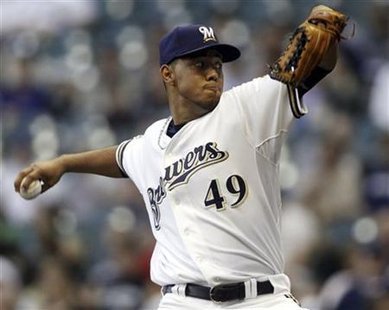 NEW YORK (Reuters) - Milwaukee Brewers right-hander Yovani Gallardo was robbed at gunpoint early on Friday, hours after the ace pitched against the Los Angeles Dodgers.
Gallardo and a Brewers clubhouse attendant were held up in the parking lot of a supermarket in Milwaukee and handed over money and jewelry to the robber, the team said on its website (http://milwaukee.brewers.mlb.com/).
The attendant hit in the head with the butt of the robber's gun but Gallardo was unhurt, according to the team.
Gallardo (11-6) struck out 10 batters in a 7-1 loss to the Dodgers on Thursday but gave up six runs and left the game in the seventh inning.
(Writing by Gene Cherry in Raleigh, North Carolina; Editing by Frank Pingue.)