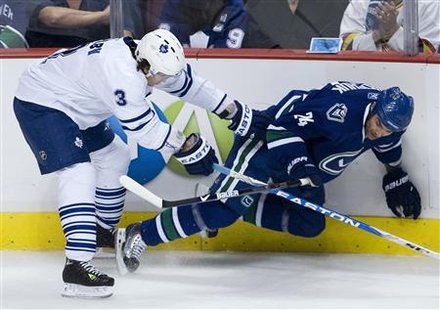 VANCOUVER (Reuters) - Vancouver scored two first period powerplay goals to lay the foundations for a 3-1 victory over the winless Toronto Maple Leafs on Saturday.
The loss was the eighth consecutive for the Maple Leafs (0-7-1), who are off to their worst ever start and remain the only NHL team without a victory this season.
Mason Raymond scored twice for Vancouver (5-5), getting the Canucks' first goal at 14:50 and adding an empty netter with 7.9 seconds remaining.
Ryan Kesler scored Vancouver's other goal while Michael Grabner and Christian Ehrhoff assisted on both first period tallies.
Niklas Hagman registered Toronto's goal on a powerplay in the second period.
Vancouver netminder Roberto Luongo turned away 35 shots while Joey MacDonald had 22 saves for Toronto.
(Reporting by Gene Cherry in Salvo, North Carolina; Editing by John O'Brien)