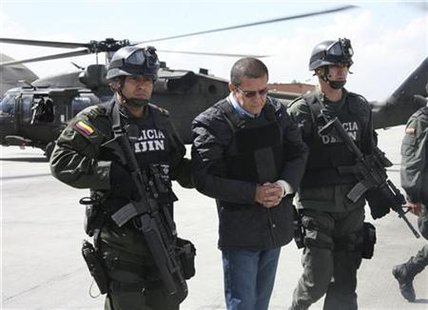 MIAMI (Reuters) - Cocaine kingpin Diego Montoya, the one-time head of Colombia's Norte del Valle cartel, apologized in a U.S. court to the victims of drug violence and was sentenced on Wednesday to 45 years in prison.
Montoya pleaded guilty in August to drug and racketeering charges as head of the cartel that the FBI said was once responsible for 60 percent of the cocaine exported from Colombia to the United States.
"I have come to the conclusion that there is nothing I could ever to do repair the great harm I have caused," The Miami Herald quoted Montoya as telling the court.
With the sentence, he said, "It is my sincere hope to be able to bring relief to my family and the families of the victims and bring their nightmare to a conclusion."
U.S. District Judge Cecilia Altonaga handed down the 45-year sentence, which Montoya had agreed to as part of his guilty plea. The extradition agreement prohibited a life sentence.
Known as Don Diego, Montoya became a billionaire as he built the Norte del Valle cartel into an organization that smuggled 1.2 million pounds (545,000 kgs) of cocaine worth more than $10 million into the United States between 1990 and 2004, supplanting the once-dominant Cali cartel.
A two-year battle between Montoya and another cartel kingpin, Wilber Varela, from 2003 to 2005 resulted in hundreds of deaths, prosecutors said.
Montoya, 48, was once on the FBI's 10 most-wanted list next to Osama bin Laden. He was captured by Colombian police in 2007 hiding in a ditch dressed only in his underwear and was extradited to the United States in December to face charges.
He pleaded guilty to one count of conspiracy to import more than 11 pounds (5 kg) of cocaine into the United States, one count of obstructing justice by murder, and one count of racketeering conspiracy.
FBI special agent John Gillies, who heads the bureau's Miami division, praised Colombia for co-operating to end "a brutal chapter in the history of drug trafficking."
"Unprecedented co-operation between Colombia and the United States was instrumental to the success of this case and led to the dismantlement of the Norte Valle Cartel," Gillies said.
In April, Montoya's brother, Eugenio Montoya Sanchez, was sentenced by a U.S. court in Miami to 30 years in prison for conspiring to import cocaine into the United States. Another brother and a cousin were sentenced to U.S. prison terms of 21 and 19 years in the case.
(Reporting by Jane Sutton)