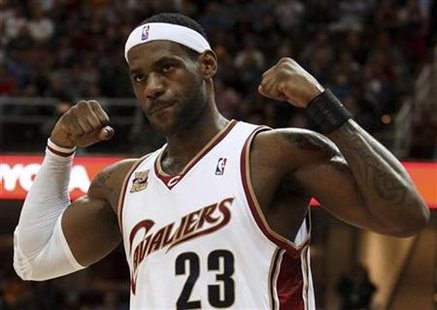 CLEVELAND (Reuters) - The Cleveland Cavaliers cruised to a 111-95 victory over the Dallas Mavericks on Saturday, returning to winning ways after a surprise loss to the lowly Charlotte Bobcats.
"We came out with a different agenda tonight, and it showed," Cleveland's LeBron James told reporters after scoring 25 points and handing out 12 assists the day after the Cavaliers lost 94-87 at Charlotte.
Guard Mo Williams also had 25 points and hit all seven of his three-pointers in helping the Central Division-leading Cavaliers turn back the Southwest Division's top team.
Dirk Nowitzki led Dallas with 27 points and Jason Terry contributed 25.
"We were kind of all over the map (at Charlotte) and it showed," Cavaliers coach Mike Brown told reporters.
"We had a lot of good performances (against Dallas), especially offensively. A lot of guys stood out."
The Cavaliers got 15 points on seven-of-seven shooting and nine rebounds from reserve Anderson Varejao with Jamario Moon scoring 13 points and Delonte West playing his best game of the season with 10 points and 10 assists.
"I threw Delonte into the game for matchup purposes and he played well and we played well so I stayed with it," Brown said.
QUICK START
A quick start by James sparked the win. The Cavaliers leader had 11 points and eight assists in a busy first quarter as Cleveland cruised to a 35-26 advantage,
Then Williams went to work, scoring 13 of his 19 first half points in the second quarter as Cleveland stretched the lead to 68-55 as they shot 68 per cent from the floor.
"It doesn't matter if I don't shoot well from the night before," the Cavaliers guard said. "I learned a long time ago never to let the last play affect the next play."
Center Shaquille O'Neal, back for a second game after missing six with a shoulder injury, logged nine points, six rebounds and four assists.
Shawn Marion finished with 12 points and Jose Barea collected 10 for Dallas, who had won seven of its previous eight games.
The Mavericks got within eight points in the third quarter but could never come closer.
"We got caught ball-watching too many times," Dallas coach Rick Carlisle said.
"We just played probably as poor a defensive half as we played all year. And you can't do that against a team like this that's so good on its home floor."
(Reporting by Gene Cherry in Salvo, North Carolina; Editing by John O'Brien; To query or comment on this story email sportsfeedback@thomsonreuters.com)