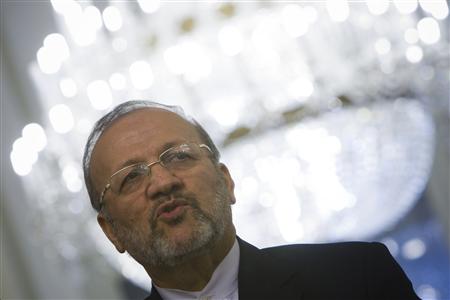 MANILA (Reuters) - Iran's foreign minister on Thursday dismissed the possibility of sanctions over Tehran's rejection of a deal to send enriched uranium abroad for further processing.
"Sanction was the literature of the 60s and 70s," Manouchehr Mottaki said at a news conference during a visit to the Philippines.
"I think they are wise enough not to repeat failed experiences," he said, speaking through an interpreter. "Of course it's totally up to them."
Iran's ISNA news agency quoted Mottaki on Wednesday as rejecting the draft deal brokered by the U.N. nuclear watchdog, the International Atomic Energy Agency (IAEA).
The IAEA had said Iran should send some 75 percent of its low-enriched uranium to Russia and France, where it would be turned into fuel for a Tehran medical research reactor.
The decision is expected to anger the United States and its allies, which had called on Iran to accept a deal which aimed to delay Tehran's potential ability to make bombs by at least a year by divesting Iran of most of its enriched uranium.
Mottaki reiterated that Tehran was willing to discuss the deal but only if the swap of enriched uranium for nuclear fuel took place within Iran.
"Iran raises its readiness in order to have further talks within the framework which is presented," he said.
"It's not our proposal to have a swap," he added. "They raised such a proposal and we described and talked about how it could be operationalized."
(Reporting by Manny Mogato; Writing by Raju Gopalakrishnan; Editing by Jeremy Laurence)