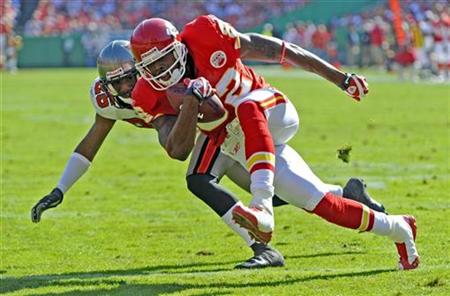 NEW YORK (Reuters) - Kansas City Chiefs wide receiver Dwayne Bowe has been suspended for four games for violating the NFL's policy on performance-enhancing substances, the league said in a statement on Tuesday.
The 25-year-old, who leads the 2-7 Chiefs with 33 receptions, will be eligible to return to the active roster after the December 13 game against the Buffalo Bills.
Kansas City's first-round selection in the 2007 draft, Bowe has 189 catches for 2,483 yards and 16 touchdowns in 40 career games.
The league gave no other details in its statement.
(Writing by Steve Keating in Detroit, editing by Tony Jimenez)