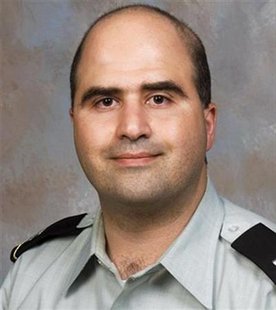 HOUSTON (Reuters) - The U.S. Army has charged an Army psychiatrist suspected of killing 13 people in last week's shooting spree at Fort Hood with murder, an Army spokesman said Thursday.
The Army charged Major Nidal Malik Hasan, a Muslim born in the United States of immigrant parents, with killing 13 people during a November 5 rampage at Fort Hood, the biggest military facility in the world.
The Army is not ruling out bringing future charges and "we are doing everything possible and we are looking at every reason for this shooting," said Chris Grey, a spokesman for the Army's Criminal Investigation Division, speaking at a news conference at Fort Hood.
Meanwhile President Barack Obama has ordered a review of how U.S. intelligence agencies handled information they may have gathered about Hasan following questions about whether U.S. authorities may have missed warning signs about him.
Hasan is currently undergoing treatment at the Brooke Army Medical Center in San Antonio, Texas.
(Additional reporting by Ross Colvin, editing by Anthony Boadle)