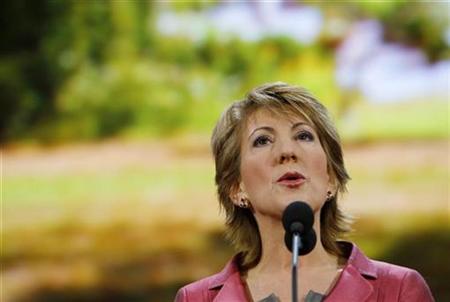 By Dan Whitcomb
LOS ANGELES (Reuters) - Former Hewlett-Packard Co chief Carly Fiorina said on Wednesday she would run as a Republican candidate for the U.S. Senate from California, seeking to unseat liberal Democrat Barbara Boxer next year.
In vying for the Republican nomination, Fiorina becomes the latest Silicon Valley executive hoping to get on the California ballot next autumn.
Former eBay Chief Executive Meg Whitman and Steve Poizner, an entrepreneur now serving as California's insurance commissioner, are seeking the Republican nomination for governor.
Fiorina and Whitman are relative newcomers to politics and face tough primary election battles.
If she secures her party's nomination, Fiorina would likely be the underdog against Boxer, who has served four terms in the Senate and has an edge in decidedly Democratic California.
A Field Poll in October showed Fiorina trailing Republican state Assemblyman Chuck DeVore in the race, although most voters were still undecided. Both Republicans trailed Boxer by double digits in the poll.
At a town-hall event in Southern California announcing her candidacy, the breast cancer survivor announced she was ready to fight.
"I have to say, after chemotherapy, Barbara Boxer is not so scary," Fiorina, 55, told the crowd.
Making light of Boxer's sideline writing politically charged potboilers, she said, "Let's say we give Barbara Boxer the chance next year to be a full-time novelist."
Fiorina was the driving force behind HP's controversial 2002 acquisition of Compaq Computer, turning the Silicon Valley pioneer into a behemoth with billions in annual revenue in line with that of IBM.
HP's poor performance resulted in her ouster in 2005 with a $21 million severance package. She served last year as a senior adviser to Republican Party presidential nominee John McCain, who lost to Barack Obama.
Fiorina said she would tackle the issues of jobs and illegal immigration and that the healthcare legislation making its way through the U.S. Congress worried her.
"California needs a Senator who will fight to create jobs -- not a failed CEO who laid off 28,000 Americans and shipped jobs overseas," Boxer's campaign manager, Rose Kapolczynski, said in a statement.
(Additional reporting by Peter Henderson; Editing by Peter Cooney)