« back to Movies
Snowpiercer (Seolguk-yeolcha)
Release Date: None
Genres: SciFi/Fantasy, Action/Adventure, Drama
Cast: Chris Evans, Jamie Bell, Tilda Swinton, Ed Harris, Octavia Spencer, John Hurt, Allison Pill, Song Kang-ho
Directors: Bong Joon-Ho
Official Site: http://snowpiercer-film.com/
Distributor: Radius-TWC
In this sci-fi epic, a failed global-warming experiment kills off most life on the planet. The final survivors board the SNOWPIERCER, a train that travels around the globe via a perpetual-motion engine. When cryptic messages incite the passengers to revolt, the train thrusts full-throttle towards disaster.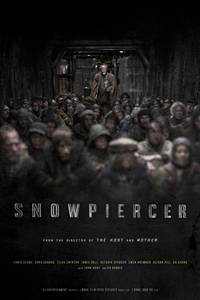 Show Times / Buy Tickets
There are no current showings for Snowpiercer (Seolguk-yeolcha) in this area.