« back to Movies
Vampire Weekend
Release Date: Feb. 14, 2014
Genres:
Cast: Zoey Deutch, Lucy Fry, Sami Gayle, Dominic Sherwood
Official Site: http://va-movie.com/
Distributor: The Weinstein Company
Based on author Richelle Mead's worldwide bestselling series, "Vampire Academu: tells the legend of Rose Hathaway and Lissa Dragomir, two 17-year-old girls who attend a hidden boarding school for Moroi (mortal, peaceful Vampires) and Dhampirs (half-vampire/half-human guardians). Rose, a rebellious Guardian-in-training and her best friend, Lissa - a royal vampire Princess - have been on the run when they are captured and returned to St.Vladamirs Academy, the very place where they believe their lives may be in most jeopardy. Thrust back into the perils of Moroi Society and high school, Lissa struggles to reclaim her status while Rose trains with her mentor and love-interest, Dimitri, to guarantee her place as Lissa's guardian. Rose will sacrifice everything to protect Lissa from those who intend to exploit her from within the Academy walls and the Strigoi (immortal, evil vampires) who hunt her kind from outside its sanctuary.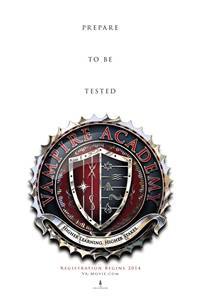 Show Times / Buy Tickets
There are no current showings for Vampire Weekend in this area.