« back to Movies
The Christmas Candle
Release Date: None
Genres: Drama
Cast: Hans Matheson, Samantha Barks, Lesley Manville, Sylvester McCoy, James Cosmo, Susan Boyle, Barbara Flynn
Directors: John Stephenson
Distributor: Echolight Studios
Deep in the heart of English countryside lies the village of Gladbury. Legend has it every 25 years an angel visits the village candlemaker and touches one candle. Whoever lights this candle receives a miracle on Christmas Eve. But in 1890, at the dawn of the electric age, this centuries old legend may end. When David, a progressive young minister, arrives, the villagers discover a new formula for miracles. While David's quest to modernize Gladbury sets him at odds with the old world candlemaker, he finds an ally in Emily Barstow. Now, the fiery candlemaker must fight to preserve the legacy of the Christmas Candle. But when the candle goes missing, the miraculous and human collide in the most astonishing Christmas Gladbury has ever seen.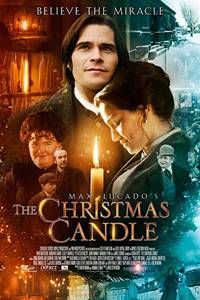 Show Times / Buy Tickets
There are no current showings for The Christmas Candle in this area.