« back to Movies
Alone Yet Not Alone
Release Date: None
Genres: Drama
Cast: Kelly Greyson, Natalie Racoosin, Clay Walker, Jenn Gotzon, Joanie Stewart, Ozzie Torres, Tony Wade, Robert Pierce, Joseph Gray, James Hartner
Directors: Ray Bengston
Official Site: http://www.aloneyetnotalone.com
Distributor: Hammond Entertainment
The inspiring true story of Barbara and Regina Leininger and their journey of faith and survival during the French & Indian war in 1755. Captured by the Delaware Indians in a raid on their home and transported over 300 miles of wilderness to Ohio, the sisters are sustained only by their abiding trust in God, and their hope of escape against all odds to be reunited with their family.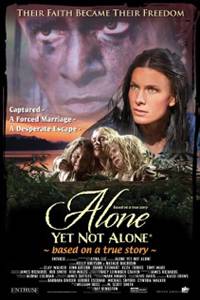 Show Times / Buy Tickets
There are no current showings for Alone Yet Not Alone in this area.