« back to Movies
Augustine
Release Date: None
Genres: Drama
Cast: Chiara Mastroianni, Olivier Rabourdin, Vincent Lindon, Grégoire Colin, Roxane Duran, Sophie Cattani, Stéphan Wojtowicz, Aurore Broutin, Frans Boyer, Lise Lamétrie
Directors: Alice Winocour
Official Site: http://www.AugustineMovie.com
Distributor: Music Box films
In Belle Epoque Paris, 19-year-old kitchen maid Augustine suffers an inexplicable seizure that leaves her partially paralyzed and is shipped off to an all-female psychiatric hospital specializing in the then-fashionable ailment of 'hysteria'. Augustine captures the attention of renowned neurologist Dr. Charcot after she has another attack that appears to give her intense physical pleasure. Intrigued, he begins using her as his principal subject, hypnotizing her in front of his fellow doctors. As Augustine displays her spectacular fits in lecture halls, the lines between doctor and patient become blurred, radically impacting the course of both of their lives.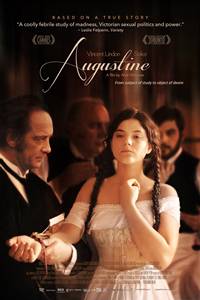 Show Times / Buy Tickets
There are no current showings for Augustine in this area.