« back to Movies
Room 237
Release Date: None
Genres: Documentary, Horror
Cast: Buffy Visick, Bill Blakemore, Geoffrey Cocks, Juli Kearns, John Fell Ryan, Jay Weidner
Directors: Rodney Ascher
Official Site: http://room237movie.com/
Distributor: IFC Films
Many cult movies have their own radical interpretations but none as rich and far-ranging as Stanley Kubrick's The Shining. In this documentary, we hear from people who believed they have decoded the far-reaching theories, hidden symbols and messages buried in the late director's film. Carefully examining The Shining forwards and backwards, Room 237 is equal parts captivating, provocative and pure pleasure.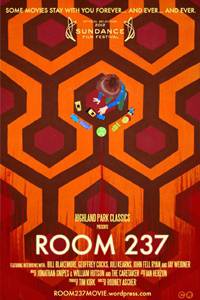 Show Times / Buy Tickets
There are no current showings for Room 237 in this area.