« back to Movies
Burn: One Year on the Frontlines of the Battle to Save Detroit
Release Date: None
Genres: Documentary
Cast: Donald Austin, Brendan "Doogie" Milewski, Dave Parnell
Directors: Tom Putnam, Brenna Sanchez
Official Site: http://www.Detroitfirefilm.org
Distributor: Area 23a
"BURN" is a documentary about Detroit Firefighters. "BURN" is an action-packed documentary about Detroit, told through the eyes of its firefighters, the men and women charged with the thankless task of saving a city that many have written off as dead. The film tells an American story about struggle, hope and personal courage in the face of overwhelming odds.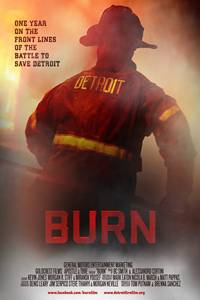 Show Times / Buy Tickets
There are no current showings for Burn: One Year on the Frontlines of the Battle to Save Detroit in this area.