« back to Movies
2 Guns
Release Date: Aug. 2, 2013
Genres: Action/Adventure, Drama
Cast: Mark Wahlberg, Denzel Washington, James Marsden, Paula Patton, Bill Paxton, Edward James Olmos, Robert John Burke, Alexandria Deberry, Fred Ward, Patrick Fischler
Directors: Baltasar Kormákur
Official Site: http://www.2guns.net/
Distributor: Universal Pictures
For the past 12 months, DEA agent Bobby Trench and U.S. naval intelligence officer Marcus Stigman have been reluctantly attached at the hip. Working undercover as members of a narcotics syndicate, each man distrusts his partner as much as the criminals they have both been tasked to take down.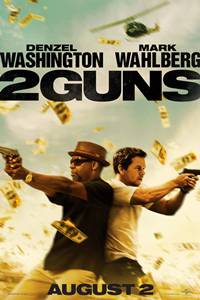 Show Times / Buy Tickets
There are no current showings for 2 Guns in this area.