« back to Movies
Turn Me On, Dammit (Fa meg pa, for faen)
Release Date: None
Genres: Comedy
Cast: Julia Schacht, Arthur Berning, Julia Bache-Wiig, Helene Bergsholm, Matias Myren, Henriette Steenstrup, Malin Bjørhovde, Jon Bleiklie Devik, Lars Nordtvedt Listau, Finn Tokvam
Directors: Jannicke Systad Jacobsen
A frank portrayal of adolescent eroticism, female division, which seldom gets portrayed onscreen at all, much less at the affectionately candid level explored here, the film is set in a less-than-vibrant burg of western Norway that everyone seems to hate; Alma and her pal Sara ritually flip off the sign that bears its name, Skoddeheimen, each time their school bus passes it. Turn Me On, Dammit! concerns itself with a number of the usual teen-movie tropes, including the loyalty of best friends, the cruelty of adolescence and the torture inflicted on the young by their parents. The paramount issue, however, is Alma's burgeoning lust. Helmer Jannicke Systad Jacobsen interweaves Alma's fantasies, which involve just about anyone, with her day-to-day routine around the curiously named Skoddeheimen and her floundering flirtations.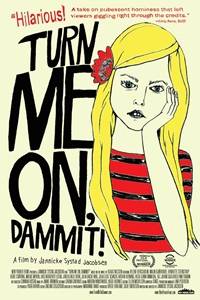 Show Times / Buy Tickets
There are no current showings for Turn Me On, Dammit (Fa meg pa, for faen) in this area.